This article will provide you the information as how to check your PAN Card link to Aadhaar. Now the deadline to link PAN to Aadhaar has been extended till December 31,2019.
So check link your PAN with Aadhaar before end of this year.
Visit https://www1.incometaxindiaefiling.gov.in/e-FilingGS/Services/AadhaarPreloginStatus.html
Write your PAN number in PAN text box and Aadhaar Number in Aadhaar Text box.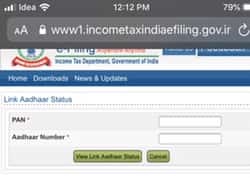 Click View link Aadhaar Status button.
If it is linked you will get "Your PAN is linked to Aadhaar number XXXXXXX5662"
Precautions: don't submit PAN and Aadhaar to any other site which is not government affiliated. Like google form or any other websites.